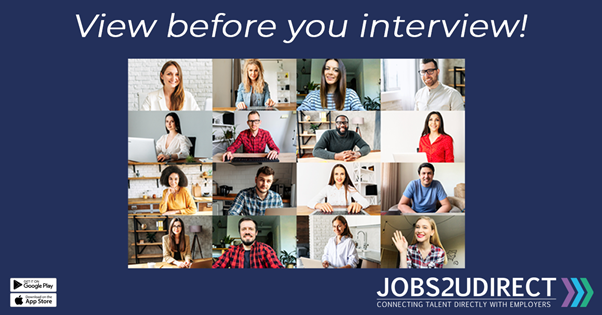 Recruitment needs to embrace video more
The past year or so have certainly changed many aspects of our lives.  During this time, the world has unwittingly pressed the fast forward button on technology resulting in changes to the way we work, how we purchase goods and generally interact with each other. One of the most significant changes has been an increase in the use of video technology.  People are now much more comfortable and competent with using video technology across a wide range of social and business interactions.  Even my mother, who is in her 90s, is now happily contacting me using Zoom!.
Consider the following stats:
Video content on social media gets 1200% more shares than text and image content (Wordstream)
An embedded video in a job advert will usually generate 34% more applications (Career Builder)
Mobile video consumption rises by 100% every year (Insivia)
Next year, online videos will make up more than 82% of all consumer internet traffic — 15 times higher than it was 5 years ago (Cisco)
59% of businesses say they would rather watch a video than read text (Wordstream)
Viewers retain 95% of a message when they watch it in a video, compared to 10% when reading it in text (Insivia)
72% of customers would rather learn about a product or service by way of video (HubSpot)
One million minutes of video crosses the internet every second (Cisco)
The fact is that video usage will only continue to increase, and in my opinion, the recruitment industry has been slow to adapt to fully exploit this technology.  Whilst there are many advantages to face-to-face meetings, the fact is that people waste a lot of time and money on meetings that could have been easily avoided. 
Have you ever considered how much time is wasted by candidates and employers on interviews that were destined to fail even before the meeting? The research company Ask Wonder estimate that there are more than 17,500 job interviews a day and I think it is safe to assume that a significant percentage of these are not appropriate either because the job is not right, or the candidate is not appropriate.  Assuming interviews take between 30 minutes to an hour, that is a huge amount of wasted time and cost even before we consider the associated travel time and costs.
The key issue is that a CV or application form only lists the skills and experience of a prospective candidate, whereas most employers will agree that getting the right soft skills is equally or more important. This is supported by Harvard University research which highlights that 85% of job success comes from soft skills.  What is a concern is that Universities UK state that a third of graduates end up starting their career in the wrong job which is not only disruptive to the graduate but expensive to the employer.  Likewise, candidates only have a job description or job advert to make an initial decision as to the suitability a job.  The reality is that a CV, job application, job description or job advert cannot effectively promote a candidate or vacancy and as a result mismatching of talent will occur. 
Video interviewing also has the advantage of enabling employers to assess more candidates and thereby identify talent that they might have not shortlisted if they were solely reliant on a CV or application form to make a decision for shortlisting to interview.   
Jobs 2U Direct is an app and platform that enables temporary staff, interim professionals and graduates to promote themselves directly to employers through video technology.  The platform integrates with Direct Hiring Solutions, where employers can source their talent directly.
To find out how Jobs 2U Direct can support you in finding the right opportunity visit jobs2udirect.com or download the app, search for Jobs 2U Direct.   If you are an employer and would like to find out how we can support you source talent directly visit directhiringsolutions.com. Alternatively, I would welcome your thoughts on this post and can be contacted at david@directhiringsolutions.com.